"VVPL is a leading NBFC and a trusted partner for all your financial needs"
About Us
---
Vaibhav Vyapaar Private Limited (VVPL) aims to position itself as a one-stop financial service provider that caters to diversified needs of the consumers and offers various financial retail products. We are a Non-Banking Financial Company (NBFC) Registered with RBI. We aim to offer easy, effortless and hassle-free cost efficient financial support to our customers who are from various income groups of our society.
Our Products
---
We are the leaders in the new-age lending business. We use cutting-edge technologies to deliver financial support to our customers.
LoanFront
Our Digital Lending Platform
---
LoanFront is a digital lending platform that helps you get quick, easy loans starting from amounts as small as ₹1500 and going right up to ₹2 Lakhs. Our app is digitally driven from end to end. This means from filling out your details and submitting your documents to verification and disbursal – the entire loan application process is carried out online.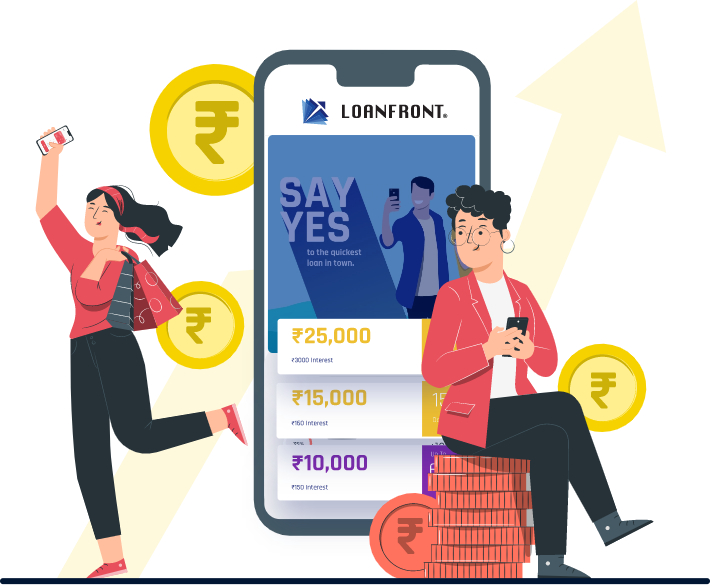 3 Simple Steps For Loans
---
Vaibhav-Vyapaar makes it easier for you to avail loans for your personal needs by Simplifying the process.
1
Apply for a Loan
Login into LoanFront Mobile App, Check your eligibility and Update your profile.
Now you are ready to apply for your Loan.
2
Get Approval
You are done with the application process. Once your loan is approved, just select the amount you require.
3
Pursue Your Dreams
Each day brings hundreds of opportunities to make happy memories with your loved ones.
You never have to pass up an opportunity to make a moment special. Now, you can always say yes to making memories.